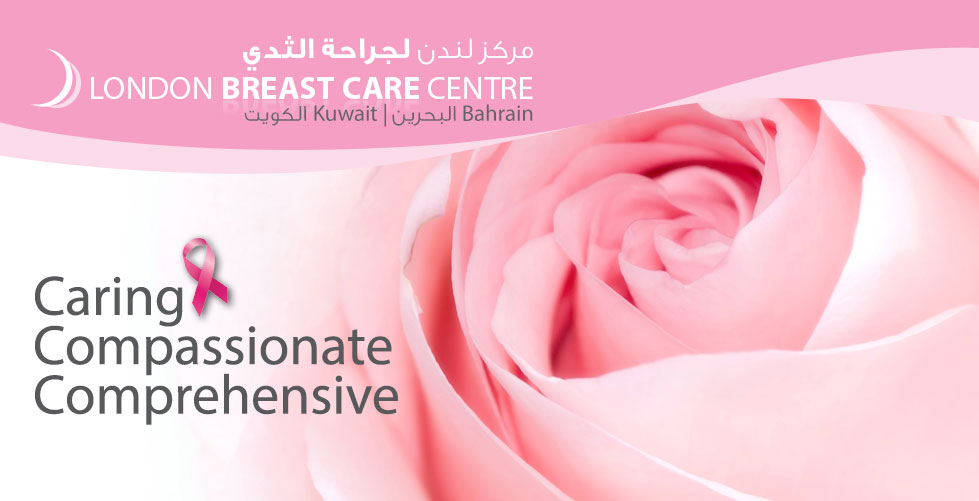 Welcome to London Breast Care Centre Bahrain
The London Breast Care Centre in Bahrain is a comprehensive, multi-disciplinary medical centre, offering a full spectrum of breast care services, from screening and diagnosis to treatment, counseling and follow up care. The Center provides innovative, integrated, high quality and cost-effective breast care services to women in a caring and compassionate manner. This involves demonstrable and audited excellence of the three essential components – medical staffing, diagnostic equipment and support services including a lymphedema specialist.
The London Breast Care Centre, Bahrain, is owned and led by Dr. Sara Al-Reefy and is affiliated with The London Breast Care Centre in the United Kingdom which is located in the Princess Grace Hospital Outpatient Department.
Dr. Al-Reefy has vast experience in the field of breast surgery; she is in fact, the first female Arab surgeon to qualify as an Oncoplastic breast surgeon from London. With an interest to help change the current management of breast cancer in the Arab world, Dr. Al-Reefy returned to Bahrain determined to implement the necessary changes to provide the best possible care for women diagnosed with breast cancer. Dr. Al-Reefy founded and led the one stop breast clinic at King Hamad University Hospital, prior to opening the London Breast Care Centre Bahrain.
Unfortunately, Breast cancer is the most common form of cancer in the Kingdom of Bahrain and we tend to see women at a much younger age group than in other parts of the world, so Dr. Sara has been working closely with the Bahrain Cancer Society for the past six years in promoting the national campaign for early detection of breast cancer. As a Vice President to the Bahrain Cancer Society and currently Chairman of Public Awareness and Education, she has run various workshops, series of lectures and organized free breast examination clinics to many schools, major banks and companies in the Kingdom to provide female workers and high school female students breast care awareness.
Patients who visit the London Breast Care Center, Bahrain, have access to the most advanced tests and therapies available anywhere in the world. The breast centre is able to examine and diagnose breast lesions, providing results to patients on the same day. Dr. Sara offers skin sparing mastectomy with immediate breast reconstruction for women with early breast cancer. This new surgical technique allows for preservation of the skin envelope of the breast while removing breast tissue affected by the tumour at the same time allowing for immediate breast reconstruction. Other clinical interests include early detection, prevention and genetic predisposition to breast cancer, cosmetic breast surgery including augmentation and reduction mammoplasty, delayed breast reconstructions and the treatment of benign breast conditions.
With such unparalleled levels of dedicated staff and superior technology, the London Breast Care Centre, Bahrain, strives to contribute to the future of improved breast care services for breast cancer patients.
© 2018 London Breast Care Centre Bahrain. All Rights Reserved